Jenn SQUIRES, LVT
Jenn joined the Animal Dentistry & Oral Surgery team in February of 2009 and has been the hospital manager for years. She attended Virginia Tech for 2 years and then transferred into the Veterinary Technology Program at the Community College of Baltimore County. Jenn graduated Magna Cum Laude with an AAS degree in Veterinary Technology and received her license in 2005. Jenn currently lives in Leesburg, VA with her dog Petey, and her cats named Quiksilver, Sangria, and Dr. Spencer Reid. She is pictured here with her beautiful boy, Petey, who wrote his masters thesis about ball obsession.
Michaela Meissner
Licensed Veterinary Technician (LVT), VTS (Dentistry)
Michaela joined Animal Dentistry and Oral Surgery in October of 2014, though she's been in the veterinary field since 2001. In 2007, she graduated Cum Laude with honors from Radford University with a major in Biology and a minor in Chemistry. After working several years for veterinary clinics as an assistant, she moved to Colorado where she attended the Bel-Rea Institute of Animal Technology. She graduated in 2012 and received her technician license the same year. In 2019, she completed a specialty program in dentistry and is now a Veterinary Technician Specialist (VTS). When not at ADOS, she spends her time baking, crafting, or reading. She currently lives with her three cats: Knick, Romeow and Evie.
Ashlyn Gilly
Head Licensed Veterinary Technician (LVT)
Ashlyn joined ADOS in November of 2021. She received her veterinary technician degree from Northern Virginia Community College and passed the board exams in 2021. Ashlyn is passionate about animal care and has always felt a profound calling to the field, so much so that she changed careers to follow her heart and has now worked in veterinary medicine for 4 years. In her free time, Ashlyn enjoys running, horseback riding, and a good romance novel. She currently lives in Leesburg, VA with her husband Jake, their rescue dog Mazie (pictured here), and cat Remy.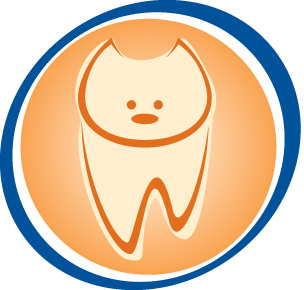 Dawna Snipes
Licensed Veterinary Technician (LVT)
Dawna joined the ADOS team in May of 2023 and brings over 20 years of experience as a licensed veterinary technician, with fifteen of those years dedicated exclusively to specialty medicine. Dawna has a strong passion for helping pets and their owners have a positive experience every time they visit the vet! She grew up in Las Vegas but has lived in the DC metro area since 2009. While it took some time to adjust to the humidity of the east coast, Dawna fell in love with the change of seasons and the beautiful landscape that our area offers. Dawna enjoys hiking in the Harper's Ferry area, exercising and reading and watching movies to relax. She shares her home with her Chihuahua Eddie, who was rescued from a home with too many siblings and who now loves being an only child!
Laura Call
Licensed Veterinary Technician (LVT)
Laura joined the Animal Dentistry & Oral Surgery team in October 2022. Laura was raised in Northern Virginia and has always known that she wanted to work in the veterinary field. She attended Brigham Young University and earned a Bachelor's degree with an emphasis in Veterinary Technology in 1998. She came home to Virginia after graduation and achieved her Veterinary Technician's License the following year. She has spent many years working in general practice and in 2018 decided it was time for a further challenge. She moved into specialty medicine, working at a Veterinary blood bank and in neurology. She has always had an interest in dentistry and loves to educate clients on the need for quality dental care for our patients. Laura currently lives with her husband, her last son still at home, and her two dogs, Barkley and Gunner. In her free time she loves to sew, watch baseball with her boys, and talk with her daughter and grandbaby over Facetime.
Jessica Thornton
Customer Service Representative
Jessica is one of our amazing customer service representatives and joined the ADOS team in December of 2021. She enjoys learning about veterinary dentistry and medicine and especially loves greeting such a variety of cute patients every day! Jessica is extremely organized, thorough, and incredibly kind and patient with our clients. When not at work, Jessica loves to travel the world (and we love hearing about all the cool places she has been!), vegetarian food, and engaging in all sorts of adventurous activities. She's also a reader and writer of poetry and enjoys spending lots of quality time with her family and their dogs.
Natalie Comer
Customer Service Representative
Natalie joined the ADOS team in January of 2021 with 10 years of experience in the veterinary field. She has a strong passion for working with animals and started working at a general practice in 2011. As her skills and interests developed, Natalie made her way into specialty care, gaining experience in emergency and neurology. Natalie takes pride in providing amazing service to our clients and she loves all of our patients equally! When not working, Natalie enjoys spending time outdoors with her husband, daughter, and their 2 dogs, horse, and goat.
Charmaine van der Merwe
Charmaine joined the ADOS family in April 2021. She graduated as a Veterinary Nurse from the University of Onderstepoort in South Africa in 2002 (where she is from). She then worked in many capacities in the veterinary field, including as an equine nurse, head hospital nurse, hydrotherapy nurse and an after-hours ER nurse. Her family moved from South Africa to England and stayed there for 8 years, during which time Charmaine became a full-time stay-at-home mom. Her entire family then moved from England to Purceville, VA where she now lives with her husband, 3 young boys, 3 dogs, 5 cats, 4 horses and 10 chickens. Believe it or not, she even finds time in there to train her horse, Peach and even takes him to eventing competitions! She is pictured with her young Australian Shepherd dog, Flynn, who has already fit in very well on the farm!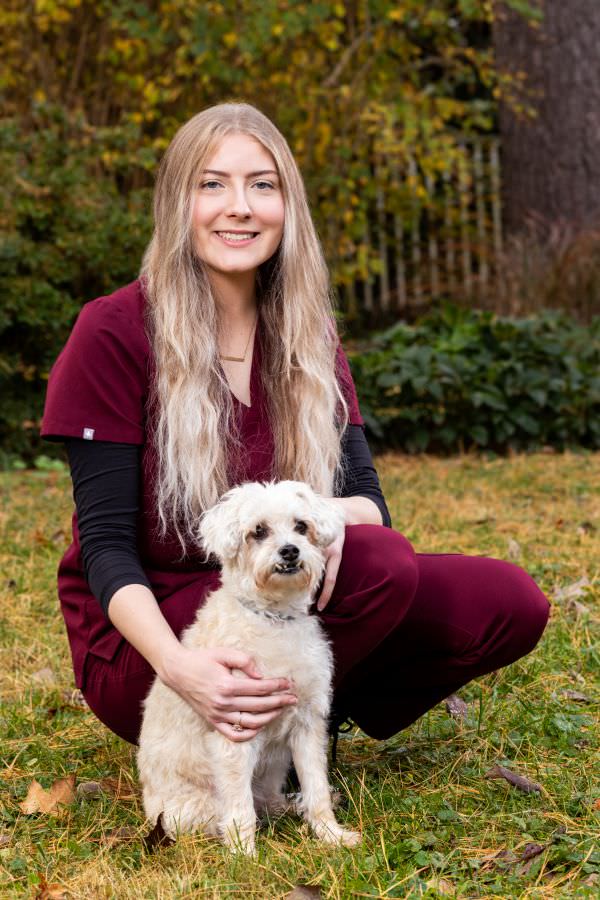 Hope O'Donnell
Hope joined the ADOS team in May of 2022. She is the executive assistant and helps in all aspects of the hospital- she is a referral coordinator, Dr. Buelow's assistant, and she helps to manage the busy schedule (a job in and of itself!). She holds a degree in Psychology from Indiana University of Pennsylvania and is currently enrolled in the VRCE (Veterinary Reception Certificate of Excellence) Speciality & ER program. Hope has always had a love for animals and enjoys seeing and interacting with furry patients everyday! Outside of work, Hope enjoys cooking/baking, watching Netflix, staying active and spending time with her family. She currently lives in Potomac Falls with her boyfriend and they are looking to add a furry friend to their family soon.