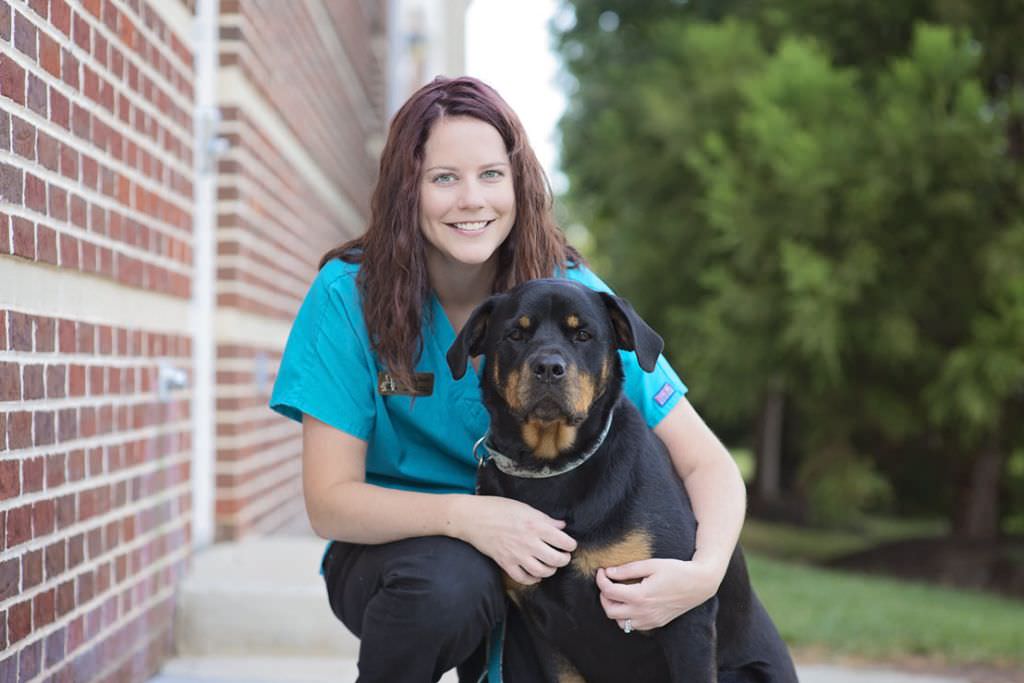 Head LVT and Hospital Manager
Jenn joined the Animal Dentistry & Oral Surgery team in February of 2009. She attended Virginia Tech for 2 years and then transferred into the Veterinary Technology Program at the Community College of Baltimore County. Jenn graduated Magna Cum Laude with an AAS degree in Veterinary Technology and received her license in 2005. Jenn currently lives in Leesburg, VA with her husband Matt, their Rottweiler named Kyra, and her cats named Sneakers, Quiksilver, Malibu, and Sangria. She is pictured here with her beautiful girl, Kyra, who has expressly forbidden the use of vacuums in her house.
Licensed Veterinary Technicians (LVT), VTS (Dentistry)
Michaela joined Animal Dentistry and Oral Surgery in October of 2014, though she's been in the veterinary field since 2001. In 2007, she graduated Cum Laude with honors from Radford University with a major in Biology and a minor in Chemistry. After working several years for veterinary clinics as an assistant, she moved to Colorado where she attended the Bel-Rea Institute of Animal Technology. She graduated in 2012 and received her technician license the same year. In 2019, she completed a specialty program in dentistry and is now a Veterinary Technician Specialist (VTS). When not at ADOS, she spends her time baking, crafting, or reading. She currently lives with her five cats: Knick, Knack, Romeow, Teddy and Evie. She is pictured here with a 3-year-old rescued hound mix named Juno, who hails from Chicago and is an avid Chicago Cubs fan who prefers deep dish pizza over thin crust.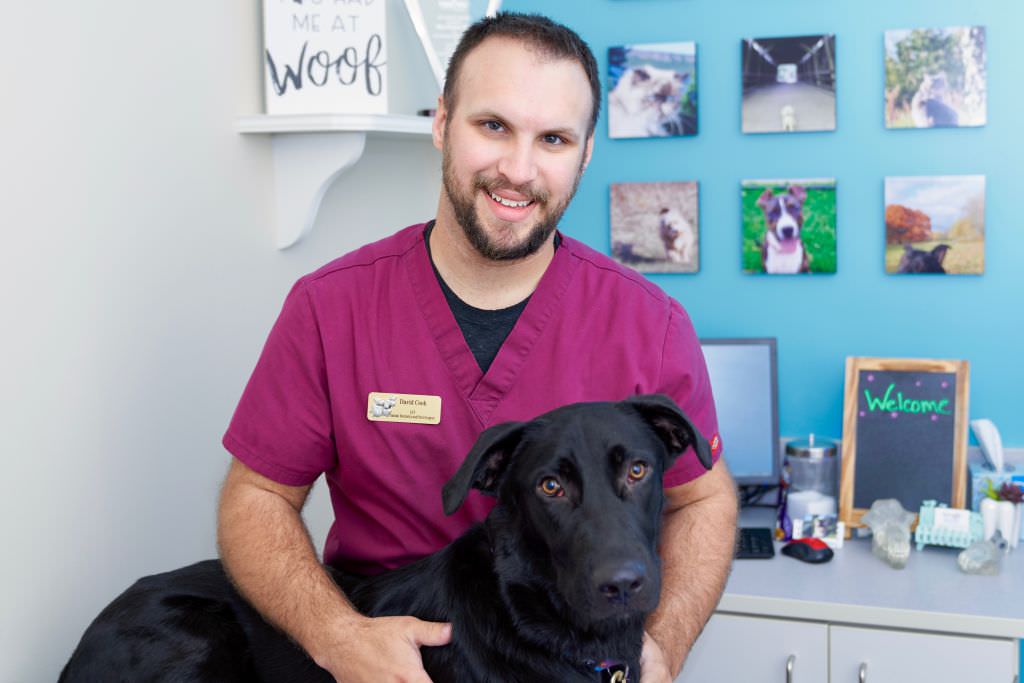 Licensed Veterinary Technicians (LVT)
David joined Animal Dentistry & Oral Surgery in January of 2017. He received his degree in veterinary technology from Blue Ridge Community College in 2013. He has a strong interest in becoming specialized in anesthesia and dentistry. In his leisure time he likes woodworking, fishing, kayaking, and backpacking. David is a native of Virginia and grew up in the Charlottesville area. He currently lives in Reston with his wife, Catherine, and their three dogs Bailey, Avett, and Willow. David is pictured with Ernie, a 9-month-old Shepherd/Pit Bull mix rescued in Northern Virginia. Ernie is an avid swimmer and hopes to be on the Olympic dock-diving team for the year 2020.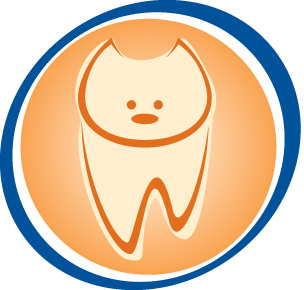 Licensed Veterinary Technicians (LVT)
Jordan joined the Animal Dentistry & Oral Surgery team in September of 2021. She graduated from Colorado Academy of Veterinary Technology at the top of her class in 2018 and received her veterinary technician license two months later. Jordan has always had a special interest in veterinary dentistry and she is hoping to achieve her Veterinary Technician Specialist (VTS) degree in this field in the future. In her free time, Jordan loves to read and cook. She currently lives in West Virginia with her boyfriend, Brandon, her lab mix, Delilah, and her cat, Dusty.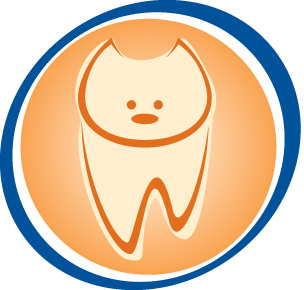 Customer Service Representative
Natalie joined the ADOS team in January of 2021 with 10 years of experience in the veterinary field. She has a strong passion for working with animals and started working at a general practice in 2011. As her skills and interests developed, Natalie made her way into specialty care, gaining experience in emergency and neurology. Natalie takes pride in providing amazing service to our clients and she loves all of our patients equally! When not working, Natalie enjoys spending time outdoors with her husband, daughter, and their 2 dogs, horse, and goat.