Practice Manager and Customer Service Representative
Kim joined the ADOS team in July of 2011. She has worked in client services in the veterinary field since early 2006. Her passion is administrative work to help keep the day moving smoothly and to ensure that you and your pet have nothing short of an amazing experience when you visit Animal Dentistry & Oral Surgery. Kim is pictured with Franks, a blue-eyed rescued Catahoula mix who is fortunate to be beautiful and sweet because intelligent decisions are not his strength.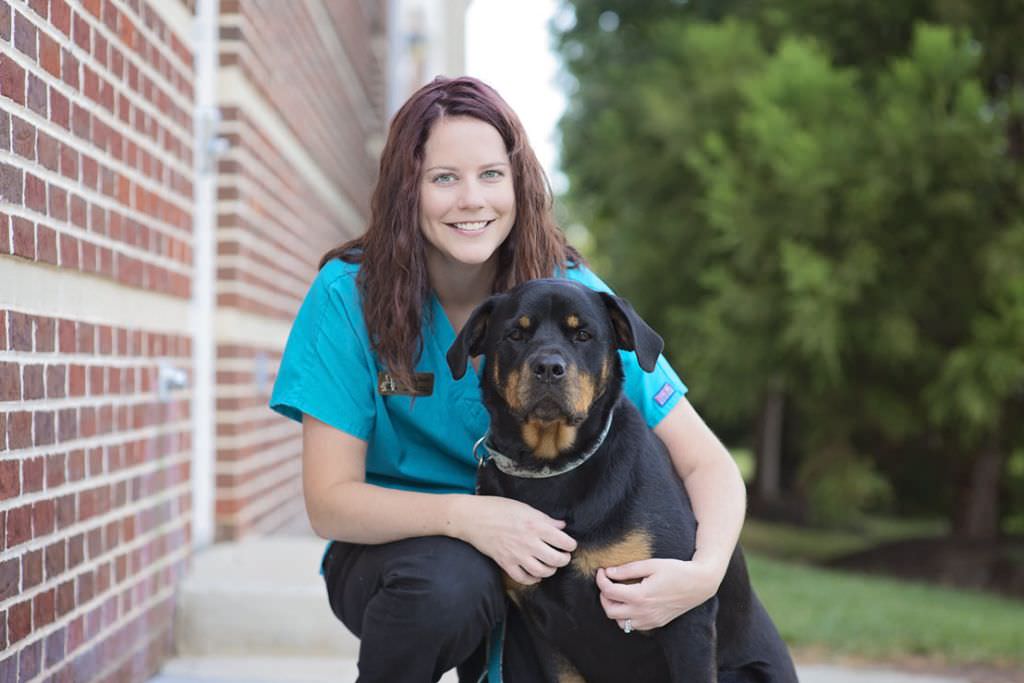 Head LVT and Hospital Manager
Jenn joined the Animal Dentistry & Oral Surgery team in February of 2009. She attended Virginia Tech for 2 years and then transferred into the Veterinary Technology Program at the Community College of Baltimore County. Jenn graduated Magna Cum Laude with an AAS degree in Veterinary Technology and received her license in 2005. Jenn currently lives in Leesburg, VA with her husband Matt, their Rottweiler named Kyra, and her cats named Sneakers, Quiksilver, Malibu, and Sangria. She is pictured here with her beautiful girl, Kyra, who has expressly forbidden the use of vacuums in her house.
Licensed Veterinary Technicians (LVT), VTS (Dentistry)
Michaela joined Animal Dentistry and Oral Surgery in October of 2014, though she's been in the veterinary field since 2001. In 2007, she graduated Cum Laude with honors from Radford University with a major in Biology and a minor in Chemistry. After working several years for veterinary clinics as an assistant, she moved to Colorado where she attended the Bel-Rea Institute of Animal Technology. She graduated in 2012 and received her technician license the same year. In 2019, she completed a specialty program in dentistry and is now a Veterinary Technician Specialist (VTS). When not at ADOS, she spends her time baking, crafting, or reading. She currently lives with her five cats: Knick, Knack, Romeow, Teddy and Evie. She is pictured here with a 3-year-old rescued hound mix named Juno, who hails from Chicago and is an avid Chicago Cubs fan who prefers deep dish pizza over thin crust.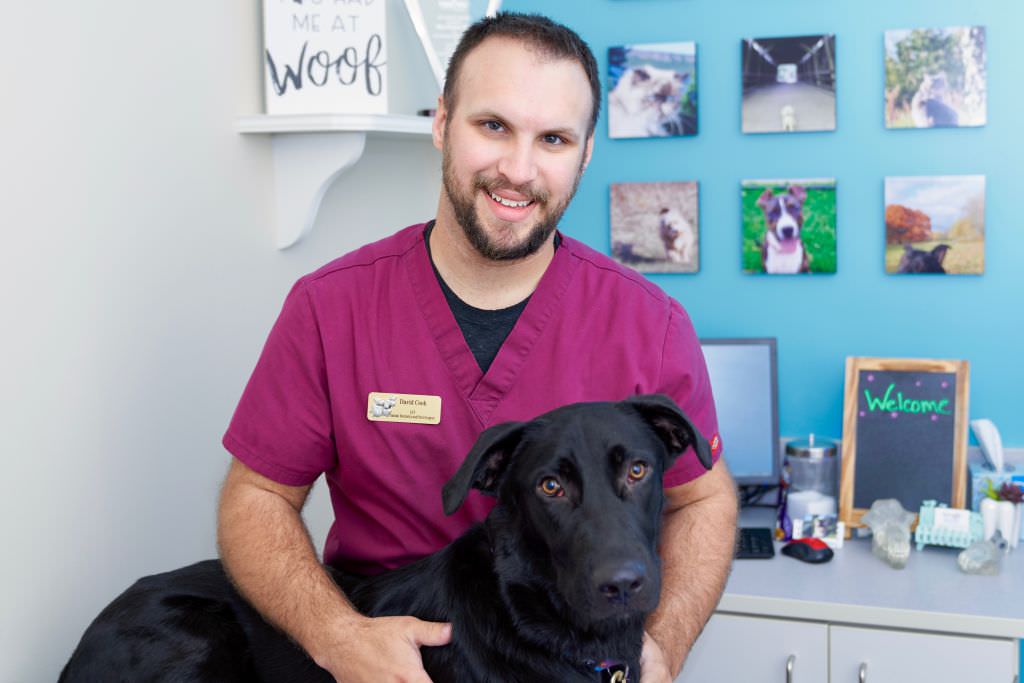 Licensed Veterinary Technicians (LVT)
David joined Animal Dentistry & Oral Surgery in January of 2017. He received his degree in veterinary technology from Blue Ridge Community College in 2013. He has a strong interest in becoming specialized in anesthesia and dentistry. In his leisure time he likes woodworking, fishing, kayaking, and backpacking. David is a native of Virginia and grew up in the Charlottesville area. He currently lives in Reston with his wife, Catherine, and their three dogs Bailey, Avett, and Willow. David is pictured with Ernie, a 9-month-old Shepherd/Pit Bull mix rescued in Northern Virginia. Ernie is an avid swimmer and hopes to be on the Olympic dock-diving team for the year 2020.
Licensed Veterinary Technicians (LVT), VTS (Anesthesia and Analgesia)
Samantha has been working with animals for the past 25 years. She obtained her Bachelor of Science in Veterinary Medical Technology and Equine Studies from Wilson College in Chambersburg, PA, graduating in 2002. She has been a Licensed Veterinary Technician for 17 years and a Veterinary Technician Specialist (VTS) in Anesthesia and Analgesia (pain management) for 10 years. Samantha has extensive experience in many areas of veterinary medicine including small animal emergency, small animal internal medicine, small animal surgery, equine surgery and equine private practice. She has performed over 700 hours of equine anesthesia and over 10,000 hours of small animal anesthesia. Samantha takes great pride in working with the doctors to develop safe and appropriate anesthesia protocols for each individual patient based on their needs. Samantha shares her life with her wonderful husband, Bill, who has been a police officer for over 20 years, their two cats, Mollie and Stevie, their dog Charlie, and their horse Dash. All of their pets are rescues and enjoying a comfy life! She is pictured here with Noodles, an 11-year-old rescued Bichon/Cocker mix who is best known for winning a pie-eating contest over Christmas that no one else participated in.